TT-248 Temperature Control Unit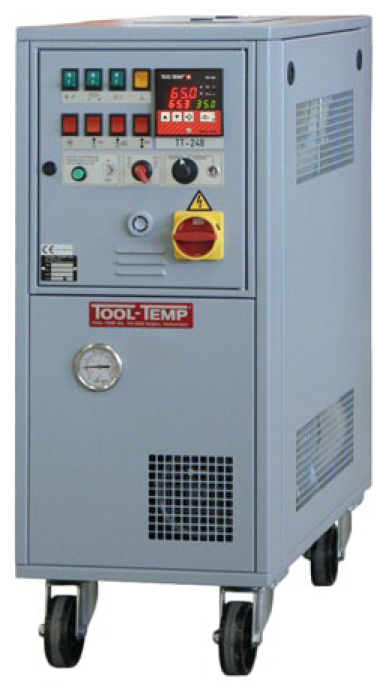 Powerful, oil unit for temperatures up to 200°C
Operational use: molds up to 600kg

Features included:
‧ Self-optimizing temperature control unit with digital display of the set and actual temperature. With high precision regulation in 1/10˚ range; can be adjusted to read ˚C or ˚F.
‧ Automatic temperature control – difference between set and actual temperature activates an alarm.
‧ Digital flow indication with control of the minimum flow.
‧ Indication of the pump pressure.
‧ Reversing switch for temperature controlling at the mold.
‧ Leakstopper device – unit can be used in pressure or vacuum mode. No medium is lost on leaking tools, therefore ensuring continued production.
‧ Automatic mold drain.
‧ Lime scale free heat exchanger.
‧ Leak free high temperature pump with axial face seal.
‧ Hot oil circuit with by-pass, which ensures internal circulation if valves are closed.
‧ Expansion tank with a drip pan.
‧ No oil cracking because of special construction of the heating elements.
‧ Safety devices:
- Level control for dry run protection.
- Electronic temperature limiter in the controller and separate mechanical safety thermostat.
- Main switch, transformer and motor protection switch.
- Horn in case of failure.
‧ All failures are visually indicated.
‧ Unit on castors.

Technical data:
‧ Heating capacity: 8kW
‧ Cooling capacity: approx. 20kW at 200 ˚C circulating temperature
‧ Pump capacity: motor 1.8kW, max 5.5bar, max 100L/min
‧ Expansion tank capacity: 8 Liters
‧ Filling amount: 8 Liters
‧ Expansion volume: 6 Liters
‧ Dimensions (LxWxH): 880 x 360 x 920 mm, incl. castors

---
TT-288 Temperature Control Unit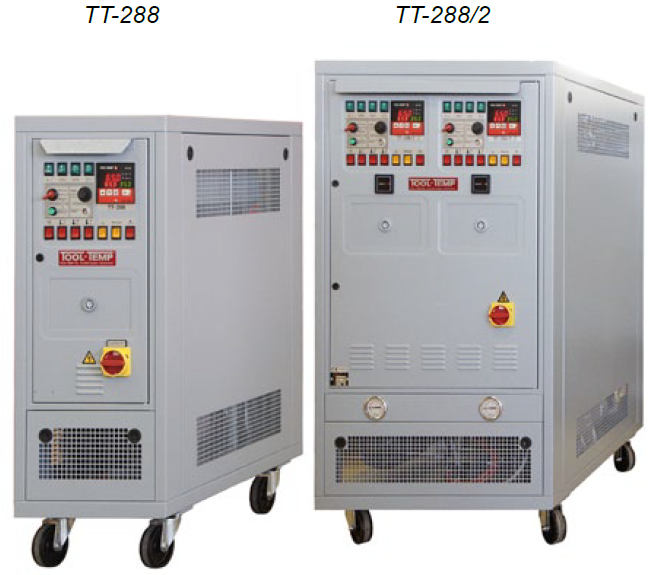 Oil unit for temperatures up to 250°C
Available as double-circuit unit with 2 x 8kW
Operational use: plastic/ die casting molds, small rollers and plates

Model Z pump with axial face seal
Model A pump with seal less magnetic drive

Features included:
‧ Self-optimizing temperature control unit with digital display of the set and actual temperature. With high precision regulation in 1/10˚ range; can be adjusted to read ˚C or ˚F.
‧ Automatic temperature control – difference between set and actual temperature activates an alarm.
‧ Digital flow indication with control of the minimum flow.
‧ Indication of the pump pressure.
‧ Reversing switch for temperature controlling at the mold.
‧ Leakstopper device – unit can be used in pressure or vacuum mode. No medium is lost on leaking tools, therefore ensuring continued production.
‧ Automatic mold drain.
‧ Lime scale free heat exchanger.
‧ Leak free high temperature pump with axial face seal.
‧ Hot oil circuit with by-pass, which ensures internal circulation if valves are closed.
‧ Expansion tank with a drip pan.
‧ No oil cracking because of special construction of the heating elements.
‧ Heating switchable in stages.
‧ Safety devices:
- Level control for dry run protection.
- Electronic temperature limiter in the controller and separate mechanical safety thermostat.
- Main switch, transformer and motor protection switch.
- Horn in case of failure.
‧ All failures are visually indicated.
‧ Unit on castors.

Technical data:
TT-288 TT-288/2( double-circuit)
Heating capacity:
Switchable in stages 8kW
3/5 2 x 8kW
2 x 3/5
Cooling capacity:
at 250˚C circulating temperature 60kW 2 x 60kW
Pump capacity: motor 1.8kW, max 5.5bar, max 100L/min
Expansion tank capacity: 14 Liters 1 x 46 Liters
Filling amount: 9 Liters 1 x 30 Liters
Expansion volume: 11 Liters 1 x 36 Liters
Dimensions (LxWxH): incl. castors 1130 x 390 x 1070 mm 1240 x 720 x 1400 mm

---
TT-OIL300 Temperature Control Unit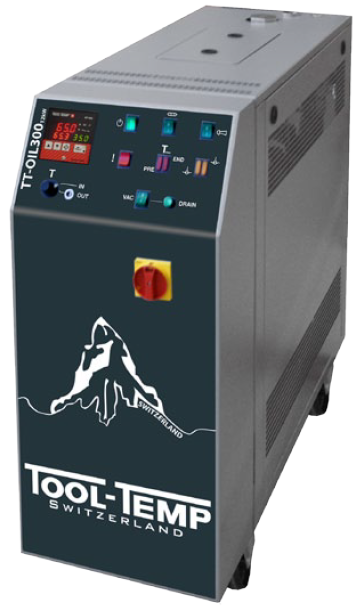 Compact, powerful oil unit up to 300°C
Operational use: molds, small rollers and plates

Model Z pump with axial face seal
Model A pump with seal less magnetic drive

Features included:
‧ Self-optimizing temperature control unit with digital display of the set and actual temperature. With high precision regulation in 1/10˚ range; can be adjusted to read ˚C or ˚F.
‧ Automatic temperature control – difference between set and actual temperature activates an alarm.
‧ Digital flow indication with control of the minimum flow.
‧ Indication of the pump pressure.
‧ Reversing switch for temperature controlling at the mold.
‧ Leakstopper device – unit can be used in pressure or vacuum mode. No medium is lost on leaking tools, therefore ensuring continued production.
‧ Automatic mold drain.
‧ Lime scale free heat exchanger.
‧ Leak free high temperature pump with axial face seal.
‧ Hot oil circuit with by-pass, which ensures internal circulation if valves are closed.
‧ Large expansion tank; with safety shutdown in case of overflow.
‧ No oil cracking because of special construction of the heating elements.
‧ Safety devices:
- Level control for dry run protection.
- Electronic temperature limiter in the controller and separate mechanical safety thermostat.
- Main switch, transformer and motor protection switch.
- Horn in case of failure.
‧ All failures are visually indicated.
‧ Unit on castors.

Technical data:
‧ Heating capacity: 12kW
‧ Cooling capacity: approx. 130kW at 290 ˚C circulating temperature
‧ Pump capacity: motor 1.8kW, max 5.5bar, max 100L/min
‧ Expansion tank capacity: 21 Liters
‧ Filling amount: 9 Liters
‧ Expansion volume: 17 Liters
‧ Dimensions (LxWxH): 1130 x 390 x 995 mm, incl. castors

---
TT-388 32/48kW Temperature Control Unit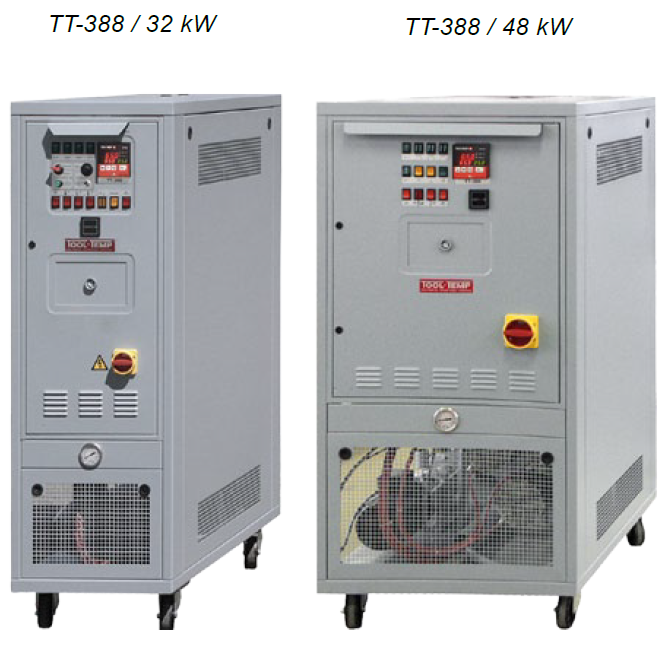 High temp. oil unit for temperatures up to 360°C
Heating capacity: 32kW or 48kW
Operational use: die casting molds, small rollers and plates

Model Z pump with axial face seal
Model A pump with seal less magnetic drive

Features included:
‧ Self-optimizing temperature control unit with digital display of the set and actual temperature. With high precision regulation in 1/10˚ range; can be adjusted to read ˚C or ˚F.
‧ Automatic temperature control – difference between set and actual temperature activates an alarm.
‧ Digital flow indication with control of the minimum flow.
‧ Indication of the pump pressure.
‧ Lime scale free heat exchanger.
‧ Leak free high temperature pump with axial face seal.
‧ Hot oil circuit with by-pass, which ensures internal circulation if valves are closed.
‧ Expansion tank with a drip pan.
‧ No oil cracking because of special construction of the heating elements.
‧ Heating switchable in stages.
‧ Safety devices:
- Level control for dry run protection.
- Electronic temperature limiter in the controller and separate mechanical safety thermostat.
- Main switch, transformer and motor protection switch.
- Horn in case of failure.
‧ All failures are visually indicated.
‧ Unit on castors.

Technical data:
TT-388Z or A (32kW) TT-388Z or A (48kW)
Heating capacity:
Switchable in stages 32kW
8/24 48kW
8/8/16/16
Cooling capacity: 150kW at 360˚C 230kW at 360˚C
Pump capacity: motor 1.8kW, max 5.5bar, max 100L/min
Expansion tank capacity: 46 Liters 46 Liters
Filling amount: 27 Liters 70 Liters
Expansion volume: 36 Liters 36 Liters
Dimensions (LxWxH): incl. castors 1240 x 480 x 1500 mm 1240 x 720 x 1500 mm

---
TT-390 16/24kW Temperature Control Unit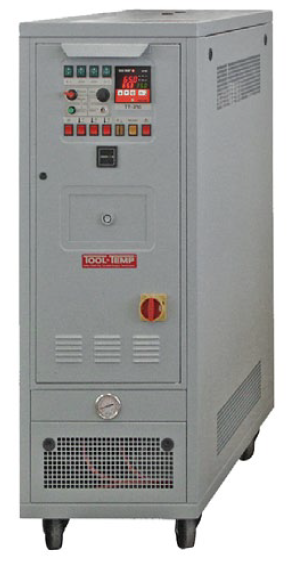 High temperature oil unit for temperatures up to 360°C
Heating capacity: 16kW or 24kW
Operational use: die casting molds, small rollers and plates

Model Z pump with axial face seal
Model A pump with seal less magnetic drive

Features included:
‧ Digital flow indication with control of the minimum flow.
‧ Self-optimizing temperature control unit with digital display of the set and actual temperature. With high precision regulation in 1/10˚ range; can be adjusted to read ˚C or ˚F.
‧ Automatic temperature control.
‧ Reversing switch for temperature controlling at the mold.
‧ Leakstopper device – unit can be used in pressure or vacuum mode. No medium is lost at leaking tools, therefore ensuring continuous production.
‧ Automatic mold drain.
‧ Heating switchable is in stage – the unnecessary heating capacity with switch off automatically.
‧ Lime scale free heat exchanger.
‧ Leak free high temperature pump with axial face seal.
‧ Hot oil circuit with by-pass, which ensures internal circulation if valves are closed.
‧ Expansion tank with a drip pan.
‧ No oil cracking because of special construction of the heating elements.
‧ Heating switchable in stages.
‧ Safety devices:
- Automatic level control for dry run protection.
- Electronic temperature limiter in the controller and separate mechanical safety thermostat.
- Main switch, transformer and motor protection switch.
- Horn in case of failure.
‧ All failures are visually indicated.
‧ Unit on castors.

Technical data:
TT-390Z or A (16kW) TT-390Z or A (24kW)
Heating capacity:
Switchable in stages 16kW
8/8 24kW
8/16
Cooling capacity: 90kW at 360˚C circulating temperature
Pump capacity: motor 1.8kW, max 5.5bar, max 100L/min
Expansion tank capacity: 21 Liters 21 Liters
Filling amount: 15 Liters 21 Liters
Expansion volume: 16 Liters 16 Liters
Dimensions (LxWxH): incl. castors 1240 x 480 x 1400 mm




Double-circuit unit available with both TT-288 and TT-390
Please contact with us for more information!