TT-13'502E Heating and Cooling Unit
Heating(2x6kW) and Cooling(8kW) Two-circuit temperature control unit and water chiller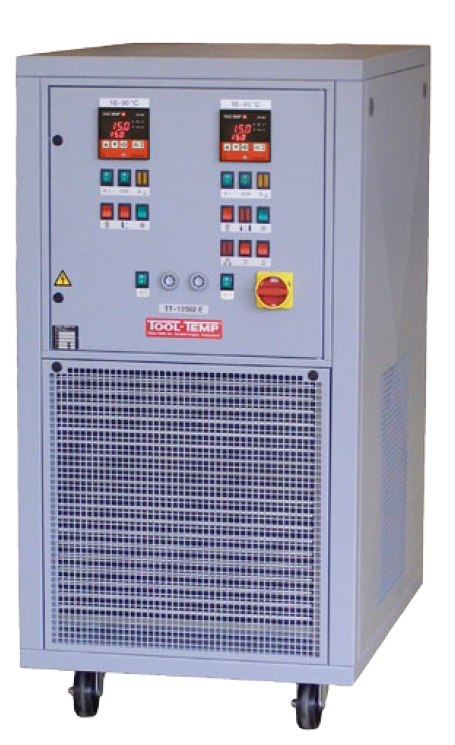 Equipped with 2 independent circuits:
1 circuit for temperatures from +10˚C until +90˚C
1 circuit for temperatures from +10˚C until +40˚C

Operating principle:
The unit has two independent water circuits with two seal less pumps and two stainless steel water tanks of each approx. 25 liters content. The 2 x 6kW heating capacity is coupled with a 8kW cooling capacity. For the cooling, a chilled water connection is not required.

Features:
‧ Two self-optimizing temperature controllers with digital display of the set and actual temperature. With high precision regulation in 1/10˚ rang; can be adjusted to read ˚C or ˚F.
‧ All components in contact with water are made of corrosion resistant stainless steel or bronze.
‧ Automatic or manual refill.
‧ Automatic level control with pre-warning at low water level.
‧ Horn in case of failure.
‧ All failures are visually indicated.
‧ Unit on castors.

Technical data:
‧ Pump capacity : 2 x max. 4.5bar / max. 75 L/min
‧ Heating capacity: 2 x 6kW
‧ Cooling capacity: 8kW for both circuits
‧ Content water tank: approx. 2 x 25 liters
‧ Power consumption: approx. 15kw
‧ Dimensions: (L)980 x (W)660 x (H)1300 (mm) incl. castors
‧ Weight: 220kg empty

---
TT-30/160 Heating and Cooling Unit/ Switch Temp
Pressurized water unit with 2 temperature circuits for cyclic heating and cooling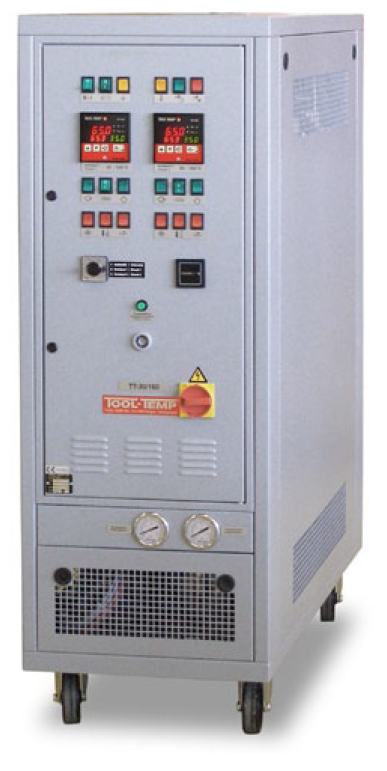 Operational use: with water from 30˚C up to 160˚C
The unit enables to switch within seconds between two independent circuits.


Features:
‧ Self-optimizing temperature controllers with digital display of the set and actual temperature. With high precision regulation in 1/10˚ rang; can be adjusted to read ˚C or ˚F.
‧ Automatic temperature control – difference between set and actual temperature activates an alarm.
‧ Indication of the pressure to the mould and of the system pressure.
‧ Automatic mould drain, pressure discharge, aeration and water filling.
‧ Lime scale free heat exchanger.
‧ All components in contact with water are made of corrosion resistant stainless steel or bronze.
‧ Safety devices:
- Automatic level control for dry run protection.
- Electronic temperature limiter in the controller and separate mechanical safety thermostat.
- Main switch, transformer and motor protection switch.
- Horn in case of failure.
‧ All failures are visually indicated.
‧ Unit on castors.

---
TT-608Z High Temperature Heating & Cooling Unit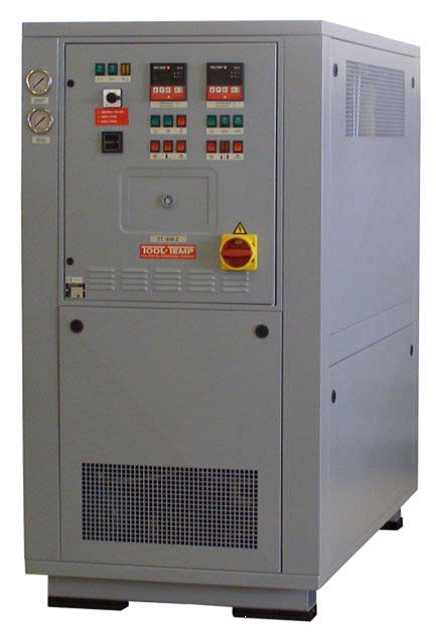 The temperature control unit TT-608Z is constructed for tools (laboratory, injection moulding) and is suitable for permanent temperatures up to maximum +300°C.
It is equipped with a closed hot and cold oil circuit with integral cold oil receiver in a large dimensioned expansion tank. Therefore no risk of oil "cracking". A long life expectancy of oil due to the low loaded heater elements and the high flow rate.

Features & Technical Specifications
‧ Mode of Operation: Oil
‧ Suitable for Tools (Laboratory/ Injection Moulding)
‧ Digital flow indication to control minimum flow
‧ Equipped with a Closed Hot Oil Circuit with Integral Cold Receiver in a Large Dimensioned Expansion Tank
‧ Axial Face Seal Mechanical Oil Pump
‧ Temperature Range: 300°C (hot oil circuit) / 80°C (cold oil circuit)
‧ Heating Capacity: 24kW
‧ Switchable Stages: 8 / 16 / 24 (kW)
‧ Cooling Method: Indirect
‧ Pump Capacity: 1.8 kW motor / max. 5.5 bar / max. 100L/min