TT-5'500E   Water Chiller
Air cooled water chiller with integrated heating capability for the water circuit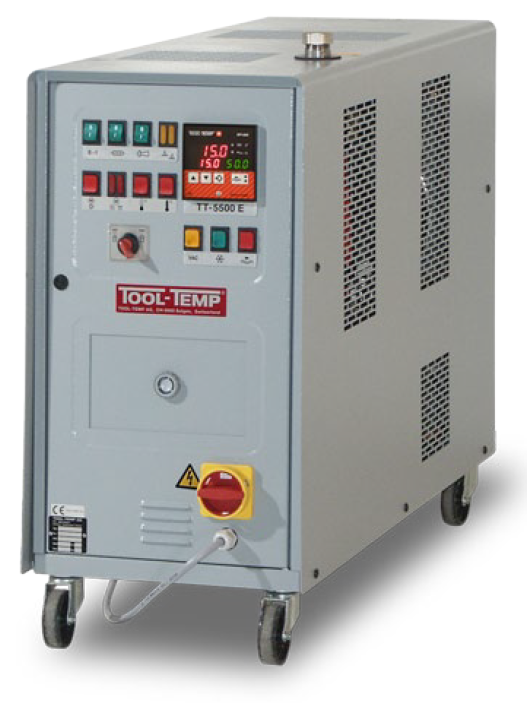 Mobile unit for individual machines or multi-machine applications

For water temperatures from +10°C up to +40°C,
At ambient temperatures up to +45°C

Suitable for high ambient air and tropical installations

●No unnecessary water consumption
due to a closed water circuit●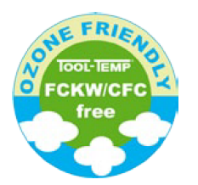 Operating principle and features:
The unit is equipped with a corrosion free water tank with a content of approx. 25 liters.  The cooling compressor cools the water content to the required temperature.  The resultant heat leaves the unit through the cover and the side panels.  Should the water temperature be too low, the heating element will be activated automatically.
‧    Self-optimizing microprocessor controller with digital display of the set and actual temperature. With high precision regulation in 1/10˚ range. Can be adjusted to read ˚C or ˚F.
‧    Digital flow indication with control of the minimum flow.
‧    All components in contact with water are made of corrosion resistant stainless steel or bronze.
‧    Long life expectancy due to the electronic control of the compressors operating time.
‧    If the water in the system does not reach the required temperature, the built-in heating will be activated automatically.
‧    Automatic or manual water refill.
‧    Automatic level control with pre-warning at low water level.
‧    Horn in case of failure.
‧    All failures are visually indicated.
‧    Unit on castors.

Technical data:
‧    Cooling capacity (Nominal): 5kW
‧    Heating: 5kW, switchable
‧    Content water tank: approx. 25L
‧    Pump capacity: max 4.5bar / max 75L/min
‧    Dimensions: 950 x 365 x 740 mm (LxWxH) incl. castors
---
TT-14'500H   Water Chiller
Air cooled water chiller with integrated heating capability for the water circuit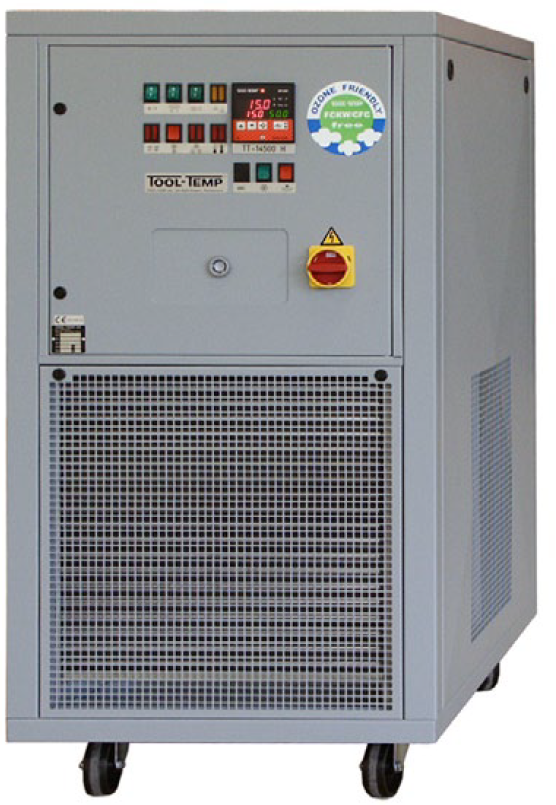 Mobile unit for individual machines or multi-machine applications

For water temperatures from +10°C up to +40°C,
At ambient temperatures up to +45°C

Suitable for high ambient air and tropical installations

●No unnecessary water consumption
due to a closed water circuit●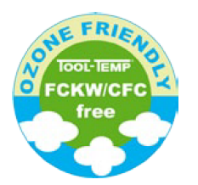 Operating principle and features:
The unit is equipped with a corrosion free water tank with a content of approx. 50 liters.  The cooling compressor cools the water content to the required temperature.  The resultant heat leaves the unit through the cover and the side panels.  Should the water temperature be too low, the heating element will be activated automatically.
‧    Self-optimizing microprocessor controller with digital display of the set and actual temperature. With high precision regulation in 1/10˚ range. Can be adjusted to read ˚C or ˚F.
‧    Digital flow indication with control of the minimum flow.
‧    All components in contact with water are made of corrosion resistant stainless steel or bronze.
‧    Long life expectancy due to the electronic control of the compressors operating time.
‧    If the water in the system does not reach the required temperature, the built-in heating will be activated automatically.
‧    Automatic or manual water refill.
‧    Automatic level control with pre-warning at low water level.
‧    Horn in case of failure.
‧    All failures are visually indicated.
‧    Unit on castors.

Technical data:
‧    Cooling capacity (Nominal): 14kW
‧    Heating: 6kW, switchable
‧    Content water tank: approx. 50L
‧    Pump capacity: max 8.5bar / max 75L/min
‧    Dimensions: 950 x 660 x 1'300 mm (LxWxH) incl. castors

※There are more models, please e-mail or call us for more information!※
All the chiller can be water cooled operation, except TT-5'500E.